Venue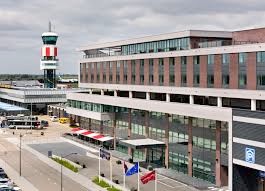 TSS 2016 will take place at the Worldhotel Wings in Rotterdam (10 mins driving from Delft), the Netherlands. The address of the hotel is:
Rotterdam Airportplein 55
3045 AP Rotterdam
The Netherlands
For more information about the hotel, please contact the Organizing Committee Members.
Location
Directions to the conference hotel can be found here or can be downloaded in pdf format from here. If you want to make use of the public transport in general, please click here.
City
Rotterdam is a city in South Holland, the Netherlands, located geographically within the Rhine–Meuse–Scheldt river delta at the North Sea. Its history goes back to 1270 when a dam was constructed in the Rotte river and people settled around it for safety. In 1340 Rotterdam was granted city rights by the Count of Holland[10] and slowly grew into a major logistic and economic centre. Nowadays it is home to Europe's largest port and has a population of 624,799 (2014, city proper), ranking second in the Netherlands. The Greater Rijnmond area is home to approximately 1.4 million people and the Rotterdam The Hague urban area makes for the 168th most populous urban area in the world. Rotterdam is part of the yet larger Randstad conurbation with a total population of 7,100,000.